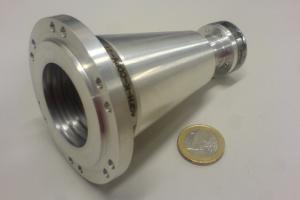 Corrugated Horns, Anteral

Improved Return Loss with no need of input mode converter, below -40dB (wide band) or -50dB (narrow band).
Optimal Gaussian radiation pattern (Gaussian beam efficiencies > 99%).
Sidelobe levels below -40dB.
Max crosspolar levels below -45dB.
Up to 50% relative bandwidths in a single band or across several separated sub-bands.
Description:
We are experts in the design, fabrication and measurement of corrugated horn antennas, with extensive experience in the field of feedhorns for reflector systems in communication satellites and radiometers.
Our proprietary innovative designs combine axial and radial corrugations to provide feedhorns with optimal radiation properties for reflector illumination, and with 30% shorter horns when compared with conventional Gaussian corrugated design