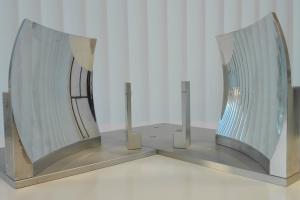 From 60 GHz to 400 GHz.
> 50 dBi gain.
Tailor feedhorns.
Single polarization.
High Data Rate up to 100Gbps.
Description:
Anteral offers custom-designed reflector antennas with operating frequencies of up to 400 GHz. These antennas can be used for scientific applications (radiometers and radiotelescopes), as well as for civil applications (point-to-point high throughput communication links and cellular backhaul networks).
With these high gain reflector antennas it is possible to obtain high data rates (up to 100Gbps) point to point links in a short period of time (few hours) and without civil works (this hapends with optics fiber).
Nowadays our reflector antennas are being used widely in research laboratories and universities from Europe and Asia like Universidad Publica de Navarra and Osaka University and companies like Huawei.