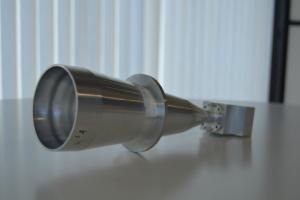 Spline profile horns, Anteral

Light design.
Best solution for horn antenna arrays.
X, Ku y Ka (Other bands also available).
High aperture efficiency.
Optimized radiation parameters.
Description:
As an alternative to corrugated horns, Anteral also designs smooth-walled feedhorns using spline profiles. Designing these types of profiles carefully, a similar performance to that of corrugated horns can be achieved, although over narrower bandwidths.
Spline profiled feed horns have the following advantages:
-Higher aperture efficiency than corrugated feed horns (useful for compact feed horn arrays).
-Easier fabrication process.
-Up to 30% shorter designs when compared to conventional spline profile feed horns (achieved with Anteral proprietary design techniques).